Come Wayward Souls is a song in Over the Garden Wall performed by The Beast.
Lyrics:
Come wayward Souls,
That wander through the darkness,
There is a light for the lost and the meek.
Sorrow and fear,
Are easily forgotten,
When you submit to the soil of the earth.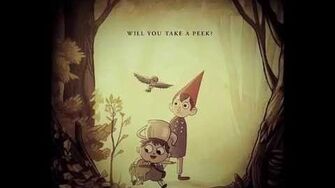 Composer's cut:
Grow, tiny seed,
you are gone to the tree.
Rise, 'til your leaves fill the sky,
until your sighs fill the air in the night.
Lift your mighty limbs,
and give praise
to the fire.
Trivia:
The song shares a cadence with "O Holy Night", and can be sung to its tune.
A tune similar to "Come Wayward Souls" is heard in "Hard Times at the Huskin' Bee" when Enoch and the Pumpkin People are approaching Wirt and Greg in the Field of Pottsfield.
In addition, the theme plays many more times in the series, usually when the Beast is mentioned; this includes at the when Beatrice spots the Beast with Greg at the Beginning of "The Unknown", also when Adelaide mentions him in "Lullaby in Frogland".
Community content is available under
CC-BY-SA
unless otherwise noted.