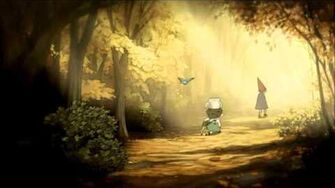 One is a Bird

Shirley Jones

Released
Recorded
Length
Label
Producer
"One is a Bird" is a song from Chapter 10 of Over the Garden Wall, The Unknown.
Lyrics
One is a bird
Two are the trees
Three is the wind in the leaves
Four are the stars
Five with the moon
Smiling down upon thee
[Only heard on the vinyl soundtrack release]
Six are the fish
Seven the reeds
Brushing the soft bellied breeze
Eight are the roots, firm in the ground
Deep as my love is for thee
Trivia
A piano demo version of this song by The Blasting Company can be heard on the official Over the Garden Wall Tumblr, here.
This song is performed by Shirley Jones, who also portrays Beatrice's mother. Coupled with the final line of the full song, it can be deduced that Beatrice's mother sang this to her.