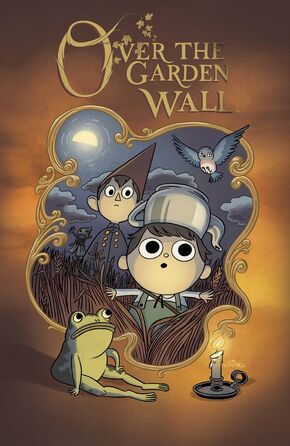 Following the TV series, several comics have been released all bearing the same title of "Over the Garden Wall". The first comic special and a miniseries comprised of four comics have been released and there is currently an ongoing series.
The first comic, a stand alone special, was released on November 5, 2014. The comic was announced in October 2014 as an oversized special. It was written and supervised by the writer of "Over the Garden Wall", Patrick McHale, illustrated by Jim Campbell, and released by KaBoom! (an imprint of Boom! Studios). The comic has been released by two covers, both of which were released by Patrick McHale on his Twitter account on August 20, 2014.
Due to the success of the standalone comic, a further four issue miniseries was commissioned in May 2015. Starting on August 26, 2015, the issues were released in August, September, October, and November. The series also featured Patrick McHale as the author and Jim Campbell as the artist with Kaboom! being the publisher. Each issue has several variant covers and contains stories that did not make it into the TV series.
On January 4, 2016, Kaboom! announced an ongoing series to be released in April 2016. The first comic was released on April 20, 2016. The ongoing series is written by Jim Campbell, show writer Amalia Levari, George Mager, Kiernan Sjursen-Lien, and Danielle Burgos, and drawn by Campbell, Cara McGee, Mager, and Sjursen-Lien. The ongoing comics tell the story of Anna, the Woodsman's daughter, tales of Miss Langtree's animal boarding school, Greg and Wirt's adventures in Dreamland, and various stand alone tales in the Unknown.
Over the Garden Wall
| | | | |
| --- | --- | --- | --- |
| Cover | Issue | Description | Date |
| | #1 | A new Over the Garden Wall story set between episodes 3 and 4 of the animated series! Wirt and Greg are trying to hitch a ride out of schooltown but end up having to walk. Soon, they come upon two girls playing, and wind up having to keep them entertained so that they don't wake their giant of a father! | August 26, 2015 |
| | #2 | The Tale of Fred the Horse! This issue takes place between episodes 4-5 of the Cartoon Network miniseries and tells the story of Fred, a down-on-his-luck horse who finds himself in trouble with the Highwayman. | September 23, 2015 |
| | #3 | Set between episodes 5-6 of the Cartoon Network animated series, Greg and Wirt follow a band of musical forest animals who are parading around the woods. | October 28, 2015 |
| | #4 | Final issue! This is a prequel to the Cartoon Network animated series. Before the woodsman was busy chasing after the beast, he lived in the woods with his daughter. The day she disappeared was when the woodsman's journey began. | November 25, 2015 |
Over the Garden Wall Ongoing
Cover
Issue
Description
Date
#1
Over the Garden Wall is now an ongoing series! In this kickoff issue, Wirt and Greg might have escaped the Beast's grasp and made it out of the Unknown, but some things can't be forgotten. Greg returns to Dreamland at night, where the silly creatures who live there help him on his adventures. Then, dive back into the early days in the Unknown where young Anna, the daughter of the Woodsman, must learn to survive in the woods on her own.
April 27, 2016
#2
Greg tries to help a squirrel prepare for winter, while Anna records her lonely days in the woods in her journal.
May 25, 2016
#3
Greg follows Jason Funderburker down a mysterious alley and makes new friends along the way, while Anna must decided whether she should leave the safety of her home to find her father.
June 22, 2016
#4
Greg tries to avoid a haunted river's curse, and Anna makes a friend in the woods.
July 27, 2016
#5
Meet Pooree the Elephant, a new student in Miss Langtree's class.
August 24, 2016
#6
The boys share two tales of Dreamland, where they encounter a toothy bird, help a giant dog, and interrupt an eerie funeral.
September 28, 2016
#7
Greg stumbles into a town of fashionable pigeons, while Wirt searches for his brother in the woods.
October 26, 2016
#8
Some good-for-nothin' varmints cut class in favor of a raft adventure.
November 23, 2016
#9
Greg meets the Old Man of the Mountain, and sings him a tune. Meanwhile,

Wirt is named the Chief of Gothic Fashion, and a surprise guest from home appears!

December 28, 2016
#10
Kitty isn't good at helping out the family business and decides to go to Ms. Langtree's School for Animals! Only it turns out that her parents miss her too much and want her to come back home immediately... even if they have to kidnap her in the night!
January 25, 2017
#11
After fleeing The Outsiders' company, Wirt stumbles upon hungry buzzards who agree to give him information on Greg's whereabouts in exchange for some "renovation" work on the place previously known as Pigeon Town.
February 22, 2017
#12
Greg learns more about the Hero Frog, while Wirt and Sara attend to an unwell gosling.
April 05, 2017
#13
Miss Langtree's class undergoes a surprise inspection!
May 10, 2017
#14
Greg and Robber are on the case! Meanwhile, Wirt and Sara are sidetracked from their own adventure.
May 31, 2017
#15
Greg and Jason might not be able to save Jason's dad in time, and Wirt and Sara have to decide if they should help Greg or attend to their own mystery.
June 28, 2017
#16
The conclusion to the Hero Frog mystery! Greg and Jason must decide if they should join the Hero Frog.
July 26, 2017
#17
A fiddling cat finds that no one likes his music as he travels through the Unknown.
August 23, 2017
2017 Special
Wirt and Greg try to take a shortcut in the Unknown with some unexpected consequences.
September 23, 2017
#18
Gather 'round for a highwayman heist story from Fred the Horse!
September 27, 2017
#19
An adventure in the day of a mysterious fishing fish, who seems to fish up far more trouble than the average fisher fish.
October 25, 2017
#20
Quincy and Marguerite try increasingly zany ideas to help out their failing tea business!
November 15, 2017
Collected Editions
On August 3, 2016, the original stand alone comic and the four issue miniseries were released in a single volume titled "Tome of the Unknown."
Since their initial release, the individual issues of the ongoing series are being collected into volumes. The first volume was released on March 22, 2017, and contains issues #1-4. Volume 2 followed it on August 9, 2017, containing issues #5-8. Volume 3 contains issues #9-12, Volume 4 issues #13-16 and Volume 5 issues #17-20.
| | | | |
| --- | --- | --- | --- |
| Cover | Issue | Description | Date |
| | Over The Garden Wall (tome of the unknown) | Issues #1 #2 #3 #4 and the standalone comic (2016) | August 3, 2016 |
| | Over The Garden Wall: Volume 1 | Issues #1 #2 #3 #4 (ongoing) | March 22, 2017 |
| | Over The Garden Wall: Volume 2 | Issues #5 #6 #7 #8 (ongoing) | August 9, 2017 |
| | Over The Garden Wall: Volume 3 | Issues #9 #10 #11 #12 (ongoing) | January 16, 2018 |
| | Over The Garden Wall: Volume 4 | Issues #13 #14 #15 #16 (ongoing) | June 26, 2018 |
| | Over The Garden Wall: Volume 5 | Issues #17 #18 #19 #20 (ongoing) | September 25, 2018 |
| | Over The Garden Wall: Hollow Town | Issues #1 #2 #3 #4 #5 | 2019 |
Original Graphic Novels
Cover
Title
Description
Date

Over The Garden Wall Original Graphic Novel: Distillatoria
When they mysteriously wake up back home from being lost in the Unknown, brothers Greg and Wirt have to help their friend Beatrice--a talking bluebird--return safely before anyone realizes she can talk.

The Eisner Award-winning series goes further into the Unknown with this all-new original story by Eisner Award-winning writer Jonathan Case (Green River Killer: a True Detective Story) and Eisner Award-winning Over the Garden Wall artist Jim Campbell.

November 27, 2018

Over The Garden Wall Original Graphic Novel: Circus Friends
#
October, 2019

Over The Garden Wall Original Graphic Novel: The Benevolent Sisters of Charity
#
2019
Hollow Town
Writer Celia Lowenthal (The Storyteller: Fairies) and artist Jorge Monlongo (Powerpuff Girls, Rugrats) send Wirt, Greg, and Beatrice on an all-new adventure in the Unknown as they stumble on a small town inhabited entirely by eerie wooden doll-people. After Greg loses a shoe to a pond-turtle, it's up to Wirt to earn money for a new pair, leading him to babysit some doll-children that may cause Wirt to stay in town forever...
| | | |
| --- | --- | --- |
| Cover | Title | Date |
| | Issue #1 | 2018-2019 |
| # | Issue #2 | 2018-2019 |
| # | Issue #3 | 2018-2019 |
| # | Issue #4 | 2018-2019 |
| # | Issue #5 | 2018-2019 |
Soulful Symphonies
Greg, Wirt, and Beatrice are ready for a break from the danger and excitement of their journeys through The Unknown. Luckily, they stumble upon a quaint little town full of theaters and stages but no players or musicians, leaving it mercifully quiet… but maybe a little too quiet. When a charming young woman offers Greg and Wirt the roles of a lifetime in the play at her family theater, as well as a place to stay, they decide to audition for the production and test out their acting chops. But who exactly are the three stage sisters running the show and where is everyone else in the town? This five-issue limited series was published on August 2019 by Boom! Studios, written by Birdie Willis and illustrated by Rowan MacColl.
Trivia
When Beatrice tells Greg that Adelaide is an old lady, Greg replies "does that mean I have to call her young man", which references chapter 9, where old lady Daniels doesn't want to be called "old lady".