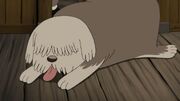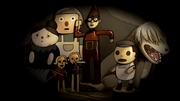 The Tavern Dog
is an animal who lives in the tavern, and sleeps in front of the door. it appears in "
Songs of the Dark Lantern
," and its toy version in the opening of "
The Old Grist Mill
," and ending of "
The Unknown
."
Appearance
The Tavern Dog is a large dog with a grey body, and a shaggy white head and paws. The dog sometimes sticks its tongue out.