"I don't know how this show got made." -Nick Cross, Art Director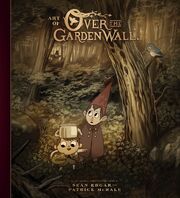 The Art of Over the Garden Wall
The Art of Over the Garden Wall was released on September 27, 2017, about 3 years after the show aired. Featuring Sean Edgar as the commentator, and created by Patrick McHale. The book follows the process and creation of both Tome of the Unknown, and Over the Garden Wall. It features in-depth looks at the concept art, character developments and informative looks at the art process. It includes the first looks at the main characters, including, Wirt, Gregory, Beatrice, Jason Funderburker (the frog), The Woodsman, The Beast, and more.
It includes words from Patrick McHale, Nick Cross, Mikkel Sommer, and other very important members of the creative team. It also has a comprehensive guide to each episode's developement. As well as development for Tome of the Unknown. It includes storyboards, backgrounds, character info and designs, and locations for each episode. It is one of the most informational resources a fan of Over the Garden Wall can have.
To see some of the art from the book you can visit the Concept Art page, and for information on the characters, episodes, and locations featured in the book just follow those links to each respective Wiki page and keep exploring!
The Art of Over the Garden Wall was published on September 27th, 2017 by Dark Horse Comics LLC.